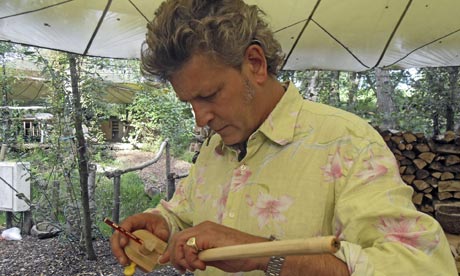 Charles Hooper, one of the trainees who didn't quite 'Master' the craft
It seemed quite surreal that Mastercrafts was finally on our screens. Being part of the show (I'm appearing on the Weaving show in Week 6, 19 March), I was keen to see how they squeezed our 6-7 week journey's into a mere few minutes. It's therefore hard to be objective as I feel as though I should defend the show as much as possible, but then again, I was also a viewer and in that respect this is what I truly thought. (And as hard as it's going to be I'm not going to reference my experience just yet, you'll have to wait until that episode has been aired!)
To begin with, like most viewers, I was totally captivated by the woodland location, it seemed like a real fairyland, so calm and peaceful and idealistic, the soundtrack seemed to help here too!
Sarah, Charles and Tom were the three trainees who under the tuition of Greenwood Expert
Guy Mallinson
undertook an apprenticeship in Green Wood. I was a bit surprised that two of the trainees were already 'wood workers' one being a wood work tutor and one being a woodwork student. Not starting from an even level of knowledge made the 'competitive' element of the show a bit unfair.
The most fascinating part of the show was seeing the wood being steamed (who knew this was possible) and witnessing the process of joining the chairs they were asked to make without using any 'fixings' such as nails or glue. It was pretty amazing to see what is achievable with limited resources.
I wasn't particularly keen on seeing a fish being battered to death with the spears they made, seeing the blood and watching them eat it. Secondly I was quite upset that they cut down a tree as part of their final task. We're always being told to save trees, or plant more, it just didn't look sustainable and if it was, they didn't explain how. It would have made more sense to look at recycling existing wood - I know that goes against the tradition and freshness of greenwood, but if greenwood is all about chopping down trees then maybe it's a craft that shouldn't be revived?
Certainly the manor they went about chopping it down was also a bit strange, they tried to be traditional again using a horse and cart to move the log but in reality they sawed the tree down with an electric saw - surely they didn't exist back in the day and if they truly were doing this traditionally, than the three of them should have chopped it down themselves.
Of course I have no intention of dampening anyone's mood, I do think it was a really good show but perhaps too ambitious, trying to cram in too much. Monty's stories about the greenwood industry were interesting but they seemed like enough content for a different show. I loved the piece on the little boats but at the same time it meant less focus on the trainees. As a result their stories were quite limited. I don't think we saw enough of the learning process, a few times we were told they were struggling but then all of a sudden they accomplished tasks. It just wasn't very believable and yet I know how hard they worked, its a shame the general viewing public couldn't make this connection. Still, I am looking forward to this week's thatching show. It's the episode I applied to be in but they turned me down and said I should do the weaving instead! I'm keen to see exactly what I missed out on : )
Here's what other's have said about the show:
In the crafty blog world, Lupin of
Bugs and Fishes
was pleased to see people making things on TV but didn't quite understand the competitive element.
In
The Guardian
, Sam Wollaston was fascinated by the whole concept of bodging. (I have to admit, I had not heard of it before apart from in the concept of Bodger and Badger.)
The
Observer's
Phil Hogan was surprised that the trainees could suddenly jump from making a spear to a chair.
Mastercrafts is currently showing in BBC 2 and BBC 2 HD at 9pm on Fridays.